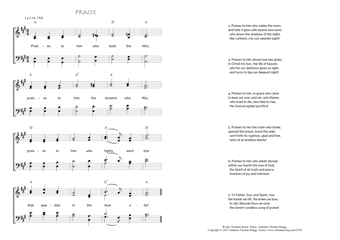 Christ My Song - 2338
Praises to him who built the hills - Praise
(Horatius Bonar/Johannes Thomas Rüegg)
Praise.
1. Praises to him who built the hills;
praises to him the streams who fills;
praises to him who lights each star
that sparkles in the blue afar! PDF - Midi
2. Praises to him who wakes the morn,
and bids it glow with beams new-born;
who draws the shadows of the night,
like curtains, o'er our wearied sight!
3. Praises to him whose love has given,
in Christ his Son, the life of heaven;
who for our darkness gives us light,
and turns to day our deepest night!
4. Praises to him, in grace who came
to bear our woe, and sin, and shame;
who lived to die, who died to rise,
the God-accepted sacrifice!
5. Praises to him the chain who broke,
opened the prison, burst the yoke,
sent forth its captives, glad and free,
heirs of an endless liberty!
6. Praises to him who sheds abroad
within our hearts the love of God;
the Spirit of all truth and peace,
fountain of joy and holiness!
7. To Father, Son, and Spirit, now
the hands we lift, the knees we bow;
to Jah-Jehovah thus we raise
the sinner's endless song of praise!
Horatius Bonar, Hymns of Faith and Hope II, 1872, 26-27.