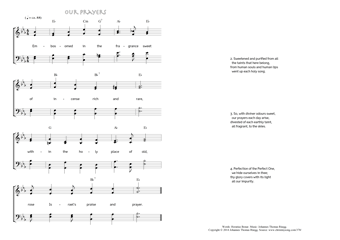 Christ My Song - 370
Embosomed in the fragrance sweet - Our prayers
(Horatius Bonar/Johannes Thomas Rüegg)
Our prayers.
"A perpetual incense before the Lord thoughout your generations." (Exodus 30,8)
1. Embosomed in the fragrance sweet
of incense rich and rare,
within the holy place of old,
rose Israel's praise and prayer. PDF - Midi
2. Sweetened and purified from all
the taints that here belong,
from human souls and human lips
went up each holy song.
3. So, with diviner odours sweet,
our prayers each day arise,
divested of each earthly taint,
all fragrant, to the skies.
4. Perfection of the Perfect One,
we hide ourselves in thee;
thy glory covers with its light
all our impurity.
Horatius Bonar, "Until the Day break", 1890, 93-94.