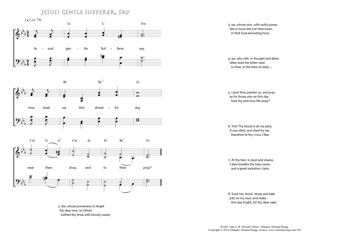 Christ My Song - 396
Jesus! gentle Sufferer, say (John S. B. Monsell/
Johannes Thomas Rüegg)
Jesus! gentle Sufferer, say.
1. Jesus! gentle Sufferer, say,
how shall we this dreadful day
near thee draw, and to thee pray? PDF - Midi
2. We, whose proneness to forget
thy dear love, on Olivet
bathed thy brow with bloody sweat;
3. we, whose sins, with awful power,
like a cloud did o'er thee lower,
in that God-excluding hour;
4. we, who still, in thought and deed,
often hold the bitter reed
to thee, in the time of need, –
5. canst thou pardon us, and pray,
as for those who on this day
took thy precious life away?
6. Yes! Thy blood is all my plea;
it was shed, and shed for me,
therefore to thy cross I flee.
7. At thy feet, in dust and shame,
I dare breathe thy holy name,
and a great salvation claim.
8. Save me, Jesus: stoop and take
pity on my soul, and make
this day bright, for thy dear sake.
John S. B. Monsell, in: Schaff, Philip: Christ in Song, 1870, 170-171.