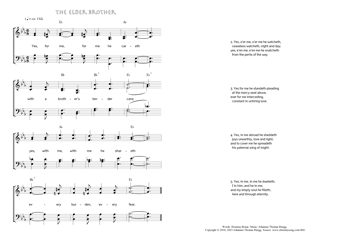 Christ My Song - 404
Yes, for me, for me he careth - The elder brother
(Horatius Bonar/Johannes Thomas Rüegg)
The elder brother.
1. Yes, for me, for me he careth
with a brother's tender care;
yes, with me, with me he shareth
every burden, every fear. (PDF - Midi)
2. Yes, o'er me, o'er me he watcheth,
ceaseless watcheth, night and day;
yes, e'en me, e'en me he snatcheth
from the perils of the way.
3. Yes for me he standeth pleading
at the mercy seat above,
ever for me interceding,
constant in untiring love.
4. Yes, in me abroad he sheddeth
joys unearthly, love and light;
and to cover me he spreadeth
his paternal wing of might.
5. Yes, in me, in me he dwelleth;
I in him, and he in me;
and my empty soul he filleth,
here and through eternity.
Horatius Bonar, Songs of Love and Joy 1.