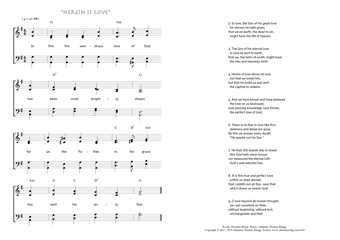 Christ My Song - 410
In this the wondrous love of God - "Herein is love"
(Horatius Bonar/Johannes Thomas Rüegg)
"Herein is love."
1. In this the wondrous love of God
has been most brightly shown:
for us the Father, in his grace,
has sent his only Son. (PDF - Midi)
2. In love, the Son of his great love
for sinners he hath given,
that we on earth, the dead in sin,
might have the life of heaven.
3. The Son of his eternal love
in love he sent to earth,
that we, the heirs of wrath, might have
the new and heavenly birth.
4. Herein is love above all love,
not that we lovèd him,
but that he lovèd us and sent
the captive to redeem.
5. And we have known and have believed
the love on us bestowed,
love passing knowledge, love Divine,
the perfect love of God.
6. There is no fear in love like this;
darkness and dread are gone.
By this we answer every doubt:
"He sparèd not his Son."
7. He that still stands afar in dread
this God hath never known,
nor measured the eternal Gift:
God's well-belovèd Son.
8. It is this true and perfect love,
within us shed abroad,
that casteth out all fear, save that
which draws us nearer God.
9. O love beyond all human thought,
we cast ourselves on thee,
without beginning, without end,
unchangeable and free!
Horatius Bonar, "Until the day break", 1890, 73-75.