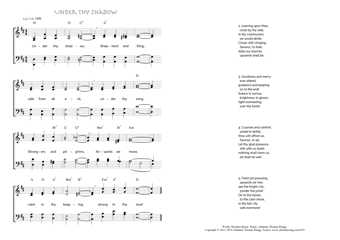 Christ My Song - 419
Under thy shadow (Horatius Bonar/Johannes Thomas Rüegg)
Under thy shadow.
1. Under thy shadow,
Shepherd and King,
safe from all evil,
under thy wing.
Strangers and pilgrims,
forwards we move,
calm in thy keeping,
strong in thy love! (PDF - Midi)
2. Leaning upon thee,
close by thy side,
in thy communion
we would abide.
Closer still clinging,
Saviour, to thee,
daily our journey
upwards shall be.
3. Goodness and mercy
ever attend,
guidance and keeping
on to the end!
Solace in sorrow,
brightness in gloom,
light everlasting,
over the tomb!
4. Counsel and comfort,
whate'er befall,
thou wilt afford us,
Saviour, in all.
Let thy glad presence
still with us dwell:
nothing shall harm us,
all shall be well.
5. Faint yet pursuing,
upwards we rise;
see the bright city,
yonder the prize!
On to the haven,
to the calm shore,
in the fair city
safe evermore!
July, 1883.
Horatius Bonar, "Until the Day break", 1890, 37-39.