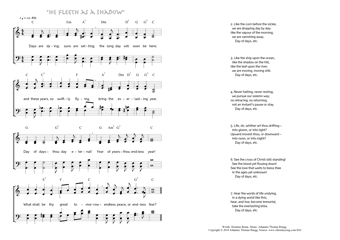 Christ My Song - 426
Days are dying; suns are setting - "He fleeth as a shadow"
(Horatius Bonar/Johannes Thomas Rüegg)
"He fleeth as a shadow."
Job 14,2.
1. Days are dying; suns are setting;
the long day will soon be here;
and these years, so swiftly flying,
bring the everlasting year.
Days of days – thou day eternal!
Year of years – thou endless year!
What shall be thy great tomorrow –
endless peace, or endless fear? PDF - Midi
2. Like the corn before the sickle,
we are dropping day by day;
like the vapour of the morning,
we are vanishing away.
Days of days, etc.
3. Like the ship upon the ocean,
like the shadow on the hill,
like the leaf upon the river,
we are moving, moving still.
Days of days, etc.
4. Never halting, never resting,
we pursue our solemn way;
no retracing, no returning,
not an instant's pause or stay.
Days of days, etc.
5. Life, oh, whither art thou drifting –
into gloom, or into light?
Upward movest thou, or downward –
into noon, or into night?
Days of days, etc.
6. See the cross of Christ still standing!
See the blood yet flowing down!
See the love that waits to bless thee
in the ages yet unknown!
Days of days, etc.
7. Hear the words of life undying,
in a dying world like this;
hear, and live; become immortal,
take the everlasting bliss.
Days of days, etc.
Horatius Bonar, "Until the day break", 1890, 185-187.