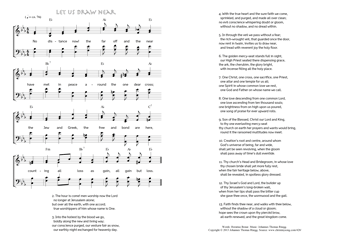 Christ My Song - 428
No distance now! the far-off and the near - Let us draw near
(Horatius Bonar/Johannes Thomas Rüegg)
Let us draw near.
1. No distance now! the far-off and the near
have met in peace around the one dear cross;
the Jew and Greek, the free and bond are here,
counting all loss as gain, all gain but loss. (PDF - Midi)
2. The hour is come! men worship now the Lord
no longer at Jerusalem alone;
but over all the earth, with one accord;
true worshippers of him whose name is One.
3. Into the holiest by the blood we go,
boldly along the new and living way;
our conscience purged, our vesture fair as snow,
our earthly night exchanged for heavenly day.
4. With the true heart and the sure faith we come,
sprinkled, and purged, and made all over clean;
no evil conscience whispering doubt or gloom,
without no shadow, and no dread within.
5. In through the veil we pass without a fear;
the rich-wrought veil, that guarded once the door,
now rent in twain, invites us to draw near,
and tread with reverent joy the holy floor.
6. The golden mercy-seat stands full in sight,
our High Priest seated there dispensing grace,
the ark, the cherubim, the glory bright,
with incense filling all the holy place.
7. One Christ, one cross, one sacrifice, one Priest,
one altar and one temple for us all;
one Spirit in whose common love we rest,
one God and Father on whose name we call.
8. One love descending from one common Lord,
one love ascending from ten thousand souls;
one brightness from on high upon us poured,
one song of praise for ever upward rolls.
9. Son of the Blessed, Christ our Lord and King,
to thy one everlasting mercy-seat
thy church on earth her prayers and wants would bring,
round it the ransomed multitudes now meet.
10. Creation's root and centre, around whom
God's universe of being, far and wide,
shall yet be seen revolving, when the gloom
shall pass away of time's dull eventide.
11. Thy church's Head and Bridegroom, in whose love
thy chosen bride shall yet more fully rest,
when the fair heritage below, above,
shall be revealed, in spotless glory dressed.
12. Thy Israel's God and Lord, the builder up
of thy Jerusalem's long-broken wall,
when from her lips shall pass the bitter cup
she gave thee once, the wormwood and the gall.
13. Faith finds thee near, and walks with thee below,
without the shadow of a cloud or gloom;
hope sees the crown upon thy piercèd brow,
all earth renewed, and the great kingdom come.
Horatius Bonar, The Song of the New Creation, 1872, 61-63.