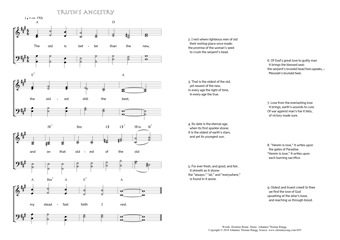 Christ My Song - 429
The old is better than the new - Truth's Ancestry
(Horatius Bonar/Johannes Thomas Rüegg)
Truth's Ancestry.
Ego sum hæres apostolorum.
(Tertullian, de Præscr. hæret. ch. xxxvi.)
1. The old is better than the new,
the oldest still the best;
and on that oldest of the old
my steadfast faith I rest. PDF - Midi
2. I rest where righteous men of old
their resting-place once made;
the promise of the woman's seed
to crush the serpent's head.
3. That is the oldest of the old,
yet newest of the new;
in every age the light of time,
in every age the true.
4. Its date is the eternal age,
when its first sparkle shone;
it is the oldest of earth's stars,
and yet its youngest sun.
5. For ever fresh, and good, and fair,
it shineth as it shone:
the "always," "all," and "everywhere,"
is found in it alone.
6. Of God's great love to guilty man
it brings the blessed seal:
the serpent's bruisèd head fore-speaks, –
Messiah's bruisèd heel.
7. Love from the everlasting love
it brings, earth's wounds to cure.
Of war against man's foe it tells,
of victory made sure.
8. "Herein is love," it writes upon
the gates of Paradise.
"Herein is love," it writes upon
each burning sacrifice.
9. Oldest and truest creed! In thee
we find the love of God
upwelling at the altar's base,
and reaching us through blood.
5,3: "Semper, ubique, et ab omnibus." (Vincentius of Lirins, Against Heresy, ch. ii.)
Horatius Bonar, The Song of the New Creation, 1872, 36-38.