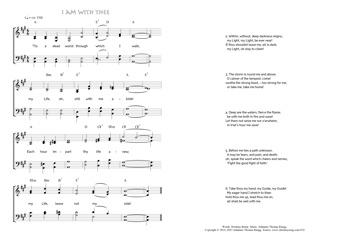 Christ My Song - 432
'Tis a dead world through which I walk - I am with thee
(Horatius Bonar/Johannes Thomas Rüegg)
I am with thee.
1. 'Tis a dead world through which I walk;
my Life, oh, still with me abide!
Each hour impart thy life anew;
my Life, leave not my side! PDF - Midi
2. Within, without, deep darkness reigns;
my Light, my Light, be ever near!
I thou shouldst leave me, all is dark;
my Light, oh stay to cheer!
3. The storm is round me and above;
O calmer of the tempest, come!
soothe the strong blast, – too strong for me;
or take me, take me home!
4. Deep are the waters, fierce the flame;
be with me both in fire and wave!
Let them not seize me nor o'erwhelm,
in trial's hour me save!
5. Before me lies a path unknown,
it may be tears, and pain, and death:
oh, speak the word which cheers and nerves,
'Fight the good fight of faith.'
6. Take thou my hand, my Guide, my Guide!
My eager hand I stretch to thee:
hold thou me up, lead thou me on,
all shall be well with me.
Horatius Bonar, The Song of the New Creation, 1872, 129-130.