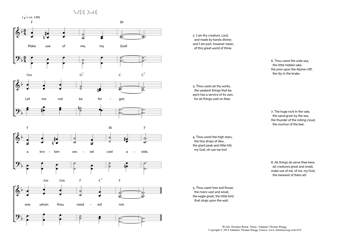 Christ My Song - 434
Make use of me, my God! - Use Me
(Horatius Bonar/Johannes Thomas Rüegg)
Use Me.
1. Make use of me, my God!
Let me not be forgot;
a broken vessel cast aside,
one whom thou needest not. PDF - Midi
2. I am thy creature, Lord,
and made by hands divine;
and I am part, however mean,
of this great world of thine.
3. Thou usest all thy works,
the weakest things that be;
each has a service of its own,
for all things wait on thee.
4. Thou usest the high stars,
the tiny drops of dew,
the giant peak and little hill:
my God, oh use me too!
5. Thou usest tree and flower,
the rivers vast and small,
the eagle great, the little bird
that sings upon the wall.
6. Thou usest the wide sea,
the little hidden lake,
the pine upon the Alpine cliff,
the lily in the brake.
7. The huge rock in the vale,
the sand-grain by the sea,
the thunder of the rolling cloud,
the murmur of the bee.
8. All things do serve thee here,
all creatures great and small;
make use of me, of me, my God,
the meanest of them all!
Horatius Bonar, Hymns of Faith and Hope II, 1872, 152-153.