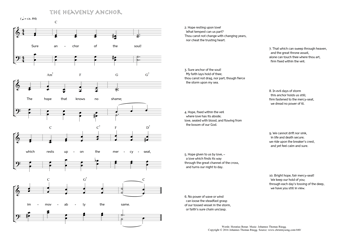 Christ My Song - 440
Sure anchor of the soul! - The Heavenly Anchor
(Horatius Bonar/Johannes Thomas Rüegg)
The Heavenly Anchor.
Hebrews 6,19.
1. Sure anchor of the soul!
The hope that knows no shame;
which rests upon the mercy-seat,
immovably the same. PDF - Midi
2. Hope resting upon love!
What tempest can us part?
Thou canst not change with changing years,
nor cheat the trusting heart.
3. Sure anchor of the soul!
My faith lays hold of thee;
thou canst not drag, nor part, though fierce
the storm upon my sea.
4. Hope, fixed within the veil
where love has its abode;
love, sealed with blood, and flowing from
the bosom of our God.
5. Hope given to us by love, –
a love which finds its way
through the great channel of the cross,
and turns our night to day.
6. No power of wave or wind
can loose the steadfast grasp
of our tossed vessel in the storm,
or faith's sure chain unclasp.
7. That which can sweep through heaven,
and the great throne assail,
alone can touch thee where thou art,
firm fixed within the veil.
8. In evil days of storm
this anchor holds us still;
firm fastened to the mercy-seat,
we dread no power of ill.
9. We cannot drift nor sink,
in life and death secure;
we ride upon the breaker's crest,
and yet feel calm and sure.
10. Bright hope, fair mercy-seat!
We keep our hold of you;
through each day's tossing of the deep,
we have you still in view.
Horatius Bonar, The Song of the New Creation, 1872, 59-61.