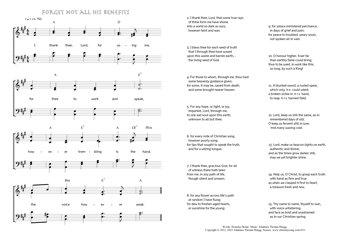 Christ My Song - 453
I thank thee, Lord, for using me - Forget not all his benefits
(Horatius Bonar/Johannes Thomas Rüegg)
Forget not all his benefits.
1. I thank thee, Lord, for using me,
for thee to work and speak,
however trembling is the hand,
the voice however weak. (PDF - Midi)
2. I thank thee, Lord, that some true rays
of thine form me have shone
into a world so dark as ours,
however faint and wan.
3. I bless thee for each seed of truth
that I through thee have sowed
upon this waste and barren earth, –
the living seed of God.
4. For those to whom, through me, thou hast
some heavenly guidance given;
for some, it may be, saved from death,
and some brought nearer heaven.
5. For any hope, or light, or joy,
imparted, Lord, through me,
to one sad soul upon this earth,
unknown to all but thee;
6. for every note of Christian song,
however poorly sung;
for lips that sought to speak the truth,
and for a willing tongue.
7. I thank thee, gracious God, for all
of witness there hath been
from me, in any path of life,
though silent and unseen;
8. for any flower across life's path
at random I have flung;
for dew to freshen aged hearts,
or sunshine for the young;
9. for solace ministered perchance,
in days of grief and pain;
for peace to troubled, weary souls,
not spoken all in vain.
10. O honour higher, truer far
than earthly fame could bring,
thus to be used, in work like this,
so long, by such a King!
11. A blunted sword, a rusted spear,
which only he could wield;
a broken sickle in his hand,
to reap his harvest field.
12. Lord, keep us still the same, as in
remembered days of old;
O keep us fervent still in love,
'mid many waxing cold.
13. Lord, make us beacon-lights on earth,
authentic and divine;
and as the times grow darker still,
may we yet brighter shine.
14. Help us, O Christ, to grasp each truth
with hand as firm and true
as when we clasped it first to heart,
a treasure fresh and new.
15. Thy name to name, thyself to own,
with voice unfaltering,
and face as bold and unashamed
as in our Christian spring.
Horatius Bonar, Hymns of Faith and Hope III, 1878, 128-130.