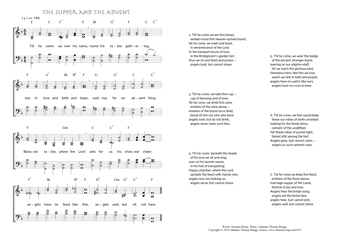 Christ My Song - 455
Till he come we own his name - The Supper and the Advent
(Horatius Bonar/Johannes Thomas Rüegg)
The Supper and the Advent.
1. Till he come we own his name,
round his table gathering;
one in love and faith and hope,
waiting for an absent King.
Blessed table, where the Lord
sets for us his choicest cheer;
angels have no feast like this,
angels wait, but sit not here. PDF - Midi
2. Till he come we eat this bread,
seated round this heaven-spread board;
till he come, we meet and feast,
in remembrance of the Lord.
In the banquet-house of love,
in the Bridegroom's garden fair;
thus we sit and feast and praise, –
angels look, but cannot share.
3. Till he come, we take this cup, –
cup of blessing and of love;
till he come, we drink this wine,
emblem of the wine above, –
emblem of the blood once shed,
blood of him our sins who bare;
angels look, but do not drink,
angels never taste such fare.
4. Till he come, beneath the shade
of his love we sit and sing;
over us his banner waves,
in his hall of banqueting.
Happy chamber, where the Lord
spreads the feast with viands rare;
angels now are looking on,
angels serve, but cannot share.
5. Till he come, we wear the badge
of the ancient stranger-band;
leaning on our pilgrim-staff,
till we reach the glorious land.
Homeless here, like him we love,
watch we still in faith and prayer;
angels have no watch like ours,
angels have no cross to bear.
6. Till he come, we fain would keep
these our robes of earth unsoiled;
looking for the festal dress,
raiment of the undefiled.
Ha! these robes of purest light,
fairest still among the fair!
Angels gaze, but cannot claim, –
angels no such raiment wear.
7. Till he come we keep this feast,
emblem of the feast above;
marriage supper of the Lamb,
festival of joy and love.
Angels hear the bridal-song,
angels set the festal fare:
angels hear, but cannot join;
angels wait, but cannot share.
Horatius Bonar, The Song of the New Creation, 1872, 101-103.