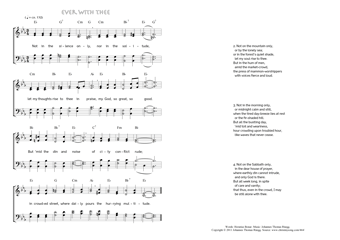 Christ My Song - 464
Not in the silence only - Ever with thee
(Horatius Bonar/Johannes Thomas Rüegg)
Ever with thee.
1. Not in the silence only,
nor in the solitude,
let my thoughts rise to thee in praise,
my God, so great, so good.
But 'mid the din and noise
of city conflict rude;
in crowded street, where daily pours
the hurrying multitude. (PDF - Midi)
2. Not on the mountain only,
or by the lonely sea;
or in the forest's quiet shade,
let my soul rise to thee.
But in the hum of men,
amid the market-crowd,
the press of mammon-worshippers
with voices fierce and loud.
3. Not in the morning only,
or midnight calm and still,
when the tired day-breeze lies at rest
or the fir-shaded hill.
But all the bustling day,
'mid toil and weariness,
hour crowding upon troubled hour,
like waves that never cease.
4. Not on the Sabbath only,
in the dear house of prayer,
where earthly din cannot intrude,
and only God is there.
But all week long, in spite
of care and vanity;
that thus, even in the crowd, I may
be still alone with thee.
Horatius Bonar, Hymns of Faith and Hope III, 1878, 103-104.