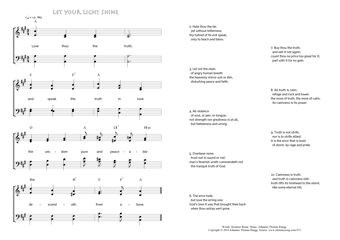 Christ My Song - 471
Love thou the truth - Let your light shine
(Horatius Bonar/Johannes Thomas Rüegg)
Let your light shine.
1. Love thou the truth,
and speak the truth in love:
the wisdom pure and peaceable
descendeth from above. PDF - Midi
2. Hate thou the lie;
yet without bitterness
thy hatred of its evil speak,
only to teach and bless.
3. Let not the stain
of angry human breath
the heavenly mirror soil or dim,
disturbing peace and faith.
4. All violence
of soul, or pen, or tongue,
not strength nor greatness is at all,
but feebleness and wrong.
5. Overbear none;
trust not in sword or rod:
man's feverish wrath commendeth not
the tranquil truth of God.
6. The error hate,
but love the erring one:
God's love it was that brought thee back
when thou astray wert gone.
7. Buy thou the truth,
and sell it not again:
count thou no price too great for it;
part with it for no gain.
8. All truth is calm,
refuge and rock and tower:
the more of truth, the more of calm;
its calmness is its power.
9. Truth is not strife,
nor is to strife allied;
it is the error that is bred
of storm, by rage and pride.
10. Calmness is truth,
and truth is calmness still:
truth lifts its forehead to the storm,
like some eternal hill.
Horatius Bonar, Hymns of Faith and Hope III, 1878, 83-84.