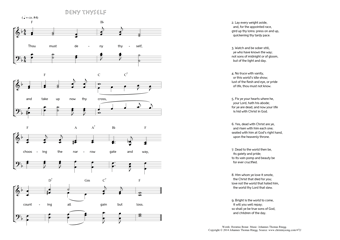 Christ My Song - 472
Thou must deny thyself - Deny thyself
(Horatius Bonar/Johannes Thomas Rüegg)
Deny thyself.
1. Thou must deny thyself,
and take up now thy cross,
choosing the narrow gate and way,
counting all gain but loss. PDF - Midi
2. Lay every weight aside,
and, for the appointed race,
gird up thy loins: press on and up,
quickening thy tardy pace.
3. Watch and be sober still,
ye who have known the way;
not sons of midnight or of gloom,
but of the light and day.
4. No truce with vanity,
or this world's idle show;
lust of the flesh and eye, or pride
of life, thou must not know.
5. Fix ye your hearts where he,
your Lord, hath his abode;
for ye are dead, and now your life
is hid with Christ in God.
6. Yes, dead with Christ are ye,
and risen with him each one;
seated with him at God's right hand,
upon the heavenly throne.
7. Dead to the world then be,
its gaiety and pride;
to its vain pomp and beauty be
for ever crucified.
8. Him whom ye love it smote,
the Christ that died for you;
love not the world that hated him,
the world thy Lord that slew.
9. Bright is the world to come,
it will you well repay;
so shall ye be true sons of God,
and children of the day.
Horatius Bonar, Hymns of Faith and Hope III, 1878, 85-86.