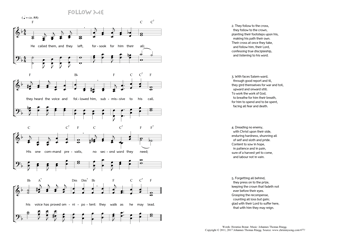 Christ My Song - 477
He called them, and they left - Follow Me
(Horatius Bonar/Johannes Thomas Rüegg)
Follow Me.
Matthew 4,21-22.
1. He called them, and they left,
forsook for him their all;
they heard the voice and followed him,
submissive to his call.
His one command prevails,
no second word they need;
his voice has proved omnipotent:
they walk as he may lead. (PDF - Midi)
2. They follow to the cross,
they follow to the crown,
planting their footsteps upon his,
making his path their own.
Their cross at once they take,
and follow him, their Lord,
confessing true discipleship,
and listening to his word.
3. With faces Salem-ward,
through good report and ill,
they gird themselves for war and toil,
upward and onward still.
To work the work of God,
to breathe for him their breath,
for him to spend and to be spent,
facing all fear and death.
4. Dreading no enemy,
with Christ upon their side,
enduring hardness, shunning all
of self and sloth and pride.
Content to sow in hope,
in patience and in pain,
sure of a harvest yet to come,
and labour not in vain.
5. Forgetting all behind,
they press on to the prize,
keeping the crown that fadeth not
ever before their eyes.
Grasping the recompense,
counting all loss but gain;
glad with their Lord to suffer here,
that with him they may reign.
Horatius Bonar, Hymns of Faith and Hope III, 1878, 78-80.