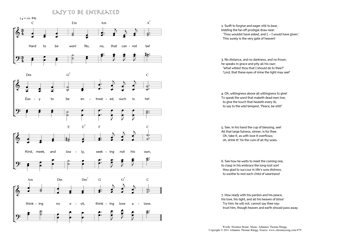 Christ My Song - 479
Hard to be won! No, no - Easy to be entreated
(Horatius Bonar/Johannes Thomas Rüegg)
Easy to be entreated.
John 4,20.
1. Hard to be won! No, no, that cannot be!
Easy to be entreated, such is he!
Kind, meek, and lowly, seeking not his own,
thinking no evil, thinking love alone. (PDF - Midi)
2. Swift to forgive and eager still to bear,
bidding the far-off prodigal draw near:
'Thou wouldst have asked, and I, – I would have given.'
This surely is the very gate of heaven!
3. No distance, and no darkness, and no frown;
he speaks in grace and pity all his own:
'What willest thou that I should do to thee?'
'Lord, that these eyes of mine the light may see!'
4. Oh, see his wondrous willingness to give!
To speak the word that maketh dead men live;
to give the touch that healeth every ill;
to say to the wild tempest, 'Peace, be still!'
5. See, in his hand the cup of blessing, see!
All that large fulness, sinner, is for thee.
Oh, take it, as with love it overflows;
oh, drink it! 'tis the cure of all thy woes.
6. See how he waits to meet the coming one,
to clasp in his embrace the long-lost son!
How glad to succour in life's sore distress,
to soothe to rest each child of weariness!
7. How ready with his pardon and his peace,
his love, his light, and all his heaven of bliss!
Try him; He will not, cannot say thee nay:
trust him, though heaven and earth should pass away.
Horatius Bonar, Hymns of the Nativity, 1879, 65-66.
4,1 reads originally (irregular): "Oh, willingness above all willingness to give!"