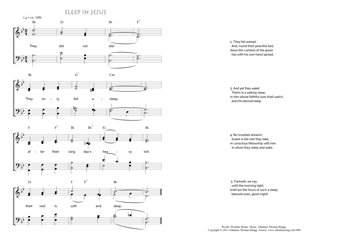 Christ My Song - 480
They did not die! - Sleep in Jesus
(Horatius Bonar/Johannes Thomas Rüegg)
Sleep in Jesus.
1. They did not die!
They only fell asleep,
after their long day's heavy toil
their rest is soft and deep. (PDF - Midi)
2. They fell asleep!
And, round their peaceful bed,
Jesus the curtains of the grave
has with his own hand spread.
3. And yet they wake!
Theirs is a waking sleep,
in him whose faithful love shall watch,
and his beloved keep.
4. No troubled dreams!
Sweet is the rest they take,
in conscious fellowship with him
in whom they sleep and wake.
5. Farewell, we say,
until the morning light;
brief are the hours of such a sleep;
beloved ones, good-night!
Horatius Bonar, Hymns of the Nativity, 1879, 69-70.