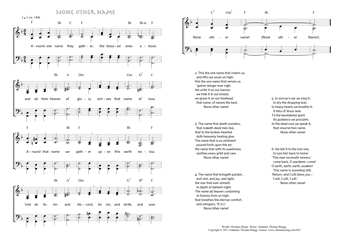 Christ My Song - 481
Around one name they gather - None other name
(Horatius Bonar/Johannes Thomas Rüegg)
None other name.
1. Around one name they gather,
the blessed ones above;
and all their heaven of glory
echoes that name of love.
Around that name we gather
upon this earth below,
'mid all its sin and discord,
its sin, and strife, and woe:
None other name! (PDF - Midi)
2. This the one name that cheers us,
and lifts our souls on high;
this the one name that nerves us
'gainst danger ever nigh.
We write it on our banner,
we hide it in our breast,
we grave it on our forehead,
that name, of names the best.
None other name!
3. The name that doeth wonders,
that maketh dead men live,
that to the broken-hearted
doth heavenly healing give.
The name that is as ointment
poured forth upon the air;
the name that with its sweetness
soothes every grief and care.
None other name!
4. The name that bringeth pardon,
and rest, and joy, and light;
the star that ever shineth
in depth of darkest night.
The name all heaven containing
in fulness from on high,
that breathes the eternal comfort,
and whispers, 'It is I.'
None other name!
5. In sorrow's ear we sing it,
to dry the dropping tear;
to heavy hearts we breathe it:
it tells of Jesus near.
To the bewildered spirit
its guidance we proclaim;
to the dead soul we speak it,
that resurrection name.
None other name!
6. We tell it to the lost one,
to lure him back to home:
'This man receiveth sinners,'
come back, O wanderer, come!
O earth, earth, earth, awaken!
This name is sounding still.
'Return, and I will bless you –
I will, I will, I will.'
None other name!
Horatius Bonar, Hymns of the Nativity, 1879, 96-98.