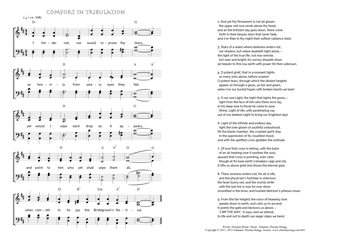 Christ My Song - 482
I hinder not, nor would reprove thy tears - Comfort in tribulation
(Horatius Bonar/Johannes Thomas Rüegg)
Comfort in tribulation.
'Thy Maker is thy husband.'
1. I hinder not, nor would reprove thy tears,
as heavily from weary eyes they fall;
yet would I wipe each drop as it appears,
and point to him who yet shall wipe them all,
when cometh in its joy the Bridegroom's festival. (PDF - Midi)
2. And yet thy firmament is not all gloom:
the upper veil now rends above thy head;
and as the brilliant day goes down, there come
forth in their beauty stars that never fade,
and o'er thee in thy night their softest radiance shed.
3. Stars of a realm where darkness enters not,
nor shadow; but where dwelleth light alone, –
the light of the true life, not now remote,
but near and bright; for sorrow draweth down
all heaven to this low earth with power till then unknown.
4. O potent grief, that in a moment lights
so many orbs above, before unseen!
O potent tears, through which the distant heights
appear as through a glass, so fair and green,
when o'er our buried hopes with broken hearts we lean!
5. O our one Light, the light that lights the grave, –
light from the face of him who there once lay,
in his deep love to those he came to save.
Shine, Light of life, with penetrating ray,
out of our darkest night to bring our brightest day!
6. Light of the infinite and endless day,
light the lone gloom of youthful widowhood,
fill the blank chamber, the crushed spirit stay
in the oppression of its cloudiest mood,
and with the uplifted cross gladden the solitude.
7. Of love that cross is telling, with the balm
of an all-healing love it soothes the soul;
upward that cross is pointing, ever calm;
though at its base earth's breakers rage and roll,
it lifts us above grief and shows the eternal goal.
8. There sickness enters not, for all is life,
and the physician's footstep is unknown;
the fever burns not, and the mortal strife
with the last foe is now for ever done:
smoothed is the brow, and hushed delirium's piteous moan.
9. From the fair heights the voice of heavenly love
speaks down to earth, and calls us to ascend;
it points the gate and beckons us above, –
'I AM THE WAY,' it says, and we attend;
to life and not to death our eager steps we bend.
Horatius Bonar, Hymns of the Nativity, 1879, 74-76.