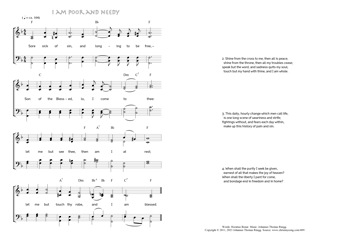 Christ My Song - 489
Sore sick of sin, and longing to be free - I am poor and needy
(Horatius Bonar/Johannes Thomas Rüegg)
I am poor and needy.
1. Sore sick of sin, and longing to be free, –
Son of the Blessed, lo, I come to thee:
let me but see thee, then am I at rest;
let me but touch thy robe, and I am blest. (PDF - Midi)
2. Shine from the cross to me, then all is peace;
shine from the throne, then all my troubles cease;
speak but the word, and sadness quits my soul;
touch but my hand with thine, and I am whole.
3. This daily, hourly change which men call life,
is one long scene of weariness and strife;
fightings without, and fears each day within,
make up this history of pain and sin.
4. When shall the purity I seek be given,
earnest of all that makes the joy of heaven?
When shall the liberty I pant for come,
and bondage end in freedom and in home?
Horatius Bonar, Hymns of the Nativity, 1879, 102.