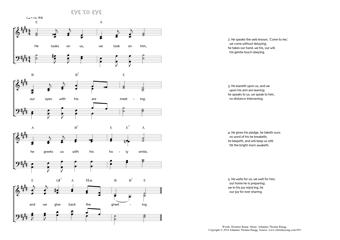 Christ My Song - 491
He looks on us, we look on him - Eye to Eye
(Horatius Bonar/Johannes Thomas Rüegg)
Eye to Eye.
1. He looks on us, we look on him,
our eyes with his are meeting;
he greets us with his holy smile,
and we give back the greeting. PDF - Midi
2. He speaks the well-known, 'Come to me,'
we come without delaying;
he takes our hand, we his, our will
his gentle touch obeying.
3. He leaneth upon us, and we
upon his arm are leaning;
he speaks to us, we speak to him,
no distance intervening.
4. He gives his pledge, he taketh ours:
no word of his he breaketh;
he keepeth, and will keep us still
till the bright morn awaketh.
5. He waits for us, we wait for him,
our home he is preparing;
we in his joy rejoicing, he
our joy for ever sharing.
Horatius Bonar, Hymns of the Nativity, 1879, 58-59.