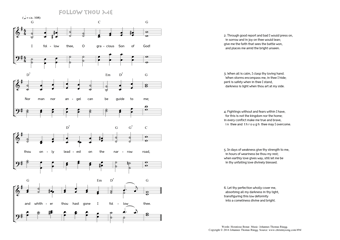 Christ My Song - 494
I follow thee, O gracious Son of God! - Follow thou Me
(Horatius Bonar/Johannes Thomas Rüegg)
Follow thou Me.
1. I follow thee, O gracious Son of God!
Nor man nor angel can be guide to me;
thou only leadest on the narrow road,
and whither thou hast gone I follow thee. PDF - Midi
2. Through good report and bad I would press on,
in sorrow and in joy on thee would lean;
give me the faith that sees the battle won,
and places me amid the bright unseen.
3. When all is calm, I clasp thy loving hand.
When storms encompass me, in thee I hide;
peril is safety when in thee I stand,
darkness is light when thou art at my side.
4. Fightings without and fears within I have,
for this is not the kingdom nor the home;
in every conflict make me true and brave,
in thee and through thee may I overcome.
5. In days of weakness give thy strength to me,
in hours of weariness be thou my rest;
when earthly love gives way, still let me be
in thy unfailing love divinely blessed.
6. Let thy perfection wholly cover me,
absorbing all my darkness in thy light,
transfiguring this low deformity
into a comeliness divine and bright.
Horatius Bonar, Hymns of the Nativity, 1879, 33-34.