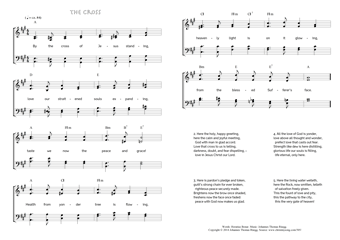 Christ My Song - 505
By the cross of Jesus standing - The Cross
(Horatius Bonar/Johannes Thomas Rüegg)
The Cross.
1. By the cross of Jesus standing,
love our straitened souls expanding,
taste we now the peace and grace!
Health from yonder tree is flowing,
heavenly light is on it glowing,
from the blessed Sufferer's face. PDF - Midi
2. Here the holy, happy greeting,
here the calm and joyful meeting,
God with man in glad accord.
Love that cross to us is telling,
darkness, doubt, and fear dispelling, –
love in Jesus Christ our Lord.
3. Here is pardon's pledge and token,
guilt's strong chain for ever broken,
righteous peace securely made.
Brightens now the brow once shaded,
freshens now the face once faded:
peace with God now makes us glad.
4. All the love of God is yonder,
love above all thought and wonder,
prefect love that casts out fear.
Strength like dew is here distilling,
glorious life our souls is filling,
life eternal, only here.
5. Here the living water welleth,
here the Rock, now smitten, telleth
of salvation freely given.
This the fount of love and pity,
this the pathway to the city,
this the very gate of heaven!
Horatius Bonar, Hymns of Faith and Hope III, 1878, 50-51.