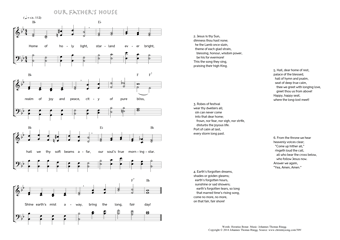 Christ My Song - 509
Home of holy light - Our Father's House
(Horatius Bonar/Johannes Thomas Rüegg)
Our Father's House.
1. Home of holy light,
star-land ever bright,
realm of joy and peace,
city of pure bliss,
hail we thy soft beams afar,
our soul's true morning-star.
Shine earth's mist away,
bring the long, fair day! PDF - Midi
2. Jesus is thy Sun,
dimness thou hast none;
he the Lamb once slain,
theme of each glad strain,
blessing, honour, wisdom power,
be his for evermore!
This the song they sing,
praising their high King.
3. Robes of festival
wear thy dwellers all;
sin can never come
into that dear home;
frown, nor fear, nor sigh, nor strife,
disturbs the joyous life.
Port of calm at last,
every storm long past.
4. Earth's forgotten dreams,
shades or golden gleams;
earth's forgotten hours,
sunshine or sad showers;
earth's forgotten tears, so long
that marred time's rising song,
come no more, no more,
on that fair, fair shore!
5. Hail, dear home of rest,
palace of the blessed,
hall of hymn and psalm,
seat of deep true calm,
thee we greet with longing love,
greet thou us from above!
Happy, happy seat,
where the long-lost meet!
6. From the throne we hear
heavenly voices clear;
"Come up hither all,"
ringeth loud the call,
all who bear the cross below,
who follow Jesus now.
Answer we again,
"Yea, Amen, Amen."
Horatius Bonar, Hymns of Faith and Hope III, 1878, 51-52.