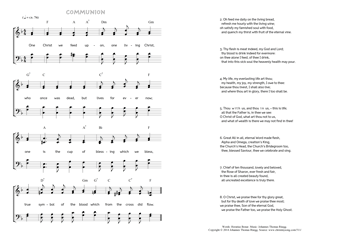 Christ My Song - 511
One Christ we feed upon, one living Christ - Communion
(Horatius Bonar/Johannes Thomas Rüegg)
Communion.
"Christusque nobis sit cibus,
potusque noster cit Christus,
laeti bibamus sobriam
ebrietatem Spiritus." (Old Hymn)
1. One Christ we feed upon, one living Christ,
who once was dead, but lives for ever now;
one is the cup of blessing which we bless,
true symbol of the blood which from the cross did flow. PDF - Midi
2. Oh feed me daily on the living bread,
refresh me hourly with the living wine;
oh satisfy my famished soul with food,
and quench my thirst with fruit of the eternal vine.
3. Thy flesh is meat indeed, my God and Lord;
thy blood is drink indeed for evermore:
on thee alone I feed, of thee I drink,
that into this sick soul the heavenly health may pour.
4. My life, my everlasting life art thou;
my health, my joy, my strength, I owe to thee:
because thou livest, I shall also live;
and where thou art in glory, there I too shall be.
5. Thou with us, and thou in us, – this is life;
all that the Father is, in thee we see:
O Christ of God, what art thou not to us,
and what of wealth is there we may not find in thee!
6. Great All in all, eternal Word made flesh,
Alpha and Omega, creation's King,
the Church's Head, the Church's Bridegroom too,
thee, blessed Saviour, thee we celebrate and sing.
7. Chief of ten thousand, lovely and beloved,
the Rose of Sharon, ever fresh and fair,
in thee is all created beauty found,
all uncreated excellence is truly there.
8. O Christ, we praise thee for thy glory great,
but for thy death of love we praise thee most;
we praise thee, Son of the eternal God,
we praise the Father too, we praise the Holy Ghost.
Horatius Bonar, Hymns of Faith and Hope III, 1878, 96-98.