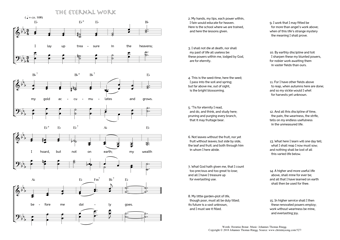 Christ My Song - 527
I lay up treasure in the heavens - The Eternal Work
(Horatius Bonar/Johannes Thomas Rüegg)
The Eternal Work.
Vitae melioris in usum.
1. I lay up treasure in the heavens;
my gold accumulates and grows.
I hoard, but not on earth; my wealth
before me daily goes. PDF - Midi
2. My hands, my lips, each power within,
I fain would educate for heaven.
Here is the school where we are trained,
and here the lessons given.
3. I shall not die at death, nor shall
my past of life all useless be:
these powers within me, lodged by God,
are for eternity.
4. This is the seed-time, here the seed;
I pass into the soil and spring;
but far above me, out of sight,
is the bright blossoming.
5. 'Tis for eternity I read,
and do, and think, and study here;
pruning and purging every branch,
that it may fruitage bear.
6. Not leaves without the fruit, nor yet
fruit without leaves; but side by side,
the leaf and fruit; and both through him
in whom I here abide.
7. What God hath given me, that I count
too precious and too great to lose;
and all I have I treasure up
for everlasting use.
8. My little garden-plot of life,
though poor, must all be duly tilled;
its future is a vast unknown,
and I must see it filled.
9. I work that I may fitted be
for more than angel's work above;
when of this life's strange mystery
the meaning I shall prove.
10. By earthly discipline and toil
I sharpen these my blunted powers,
for nobler work awaiting them
in vaster fields than ours.
11. For I have other fields above
to reap, when autumns here are done;
and so my sickle would I whet
for harvests yet unknown.
12. And all this discipline of time,
the pain, the weariness, the strife,
tells on my endless usefulness
in the unmeasured life.
13. What here I learn will one day tell;
what I shall reap I now must sow;
and nothing shall be lost of all
this varied life below.
14. A higher and more useful life
above, shall mine for ever be;
and all that I have learned on earth
shall then be used for thee.
15. In higher service shall I then
these renovated powers employ;
work without weariness be mine,
and everlasting joy.
Horatius Bonar, The Song of the New Creation, 1872, 41-43.