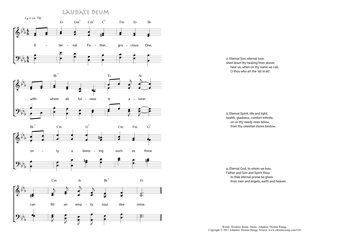 Christ My Song - 528
Eternal Father, gracious One - Laudate Deum
(Horatius Bonar/Johannes Thomas Rüegg)
Laudate Deum.
Te invocamus,
te adoramus,
te et laudamus,
O beata Trinitas!
1. Eternal Father, gracious One,
with whom all fulness is alone:
only a blessing such as thine
can fill an empty soul like mine. (PDF - Midi)
2. Eternal Son, eternal love,
shed down thy healing from above:
hear us, when on thy name we call,
O thou who art the 'all in all'.
3. Eternal Spirit, life and light,
health, gladness, comfort infinite,
on us thy needy ones below,
from thy celestial stores bestow.
4. Eternal God, to whom we bow,
Father and Son and Spirit thou;
to thee eternal praise be given
from men and angels, earth and heaven.
Horatius Bonar, The Song of the New Creation, and other pieces, 1872, 52.