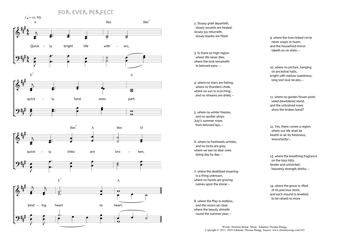 Christ My Song - 541
Quickly bright life withers - For ever perfect
(Horatius Bonar/Johannes Thomas Rüegg)
For ever perfect.
1. Quickly bright life withers,
quickly fond ones part;
quickly links are broken,
binding heart to heart. (PDF - Midi)
2. Slowly grief departeth,
slowly wounds are healed;
slowly joy returneth,
slowly blanks are filled.
3. Is there no high region
where life never dies,
where the love remaineth
in beloved eyes; –
4. where no stars are falling,
where no thunders chide,
where no sun is scorching,
and no streams are dried; –
5. where no winter freezes,
and no spoiler strips
July's summer roses
from beloved lips; –
6. where no foreheads wrinkle,
and no locks are grey;
where we see no dear ones
dying day by day; –
7. where the deathbed moaning
is a thing unknown,
where no hands are graving
names upon the stone; –
8. where the May is endless,
and the noons all clear;
where the beauty shineth
round the summer year; –
9. where the love-linked circle
never snaps in twain,
and the household mirror
taketh on no stain; –
10. where no picture, hanging
on ancestral halls,
bright with mellow sweetness,
long lost love recalls; –
11. where no garden flower-plots
weed-bewildered stand,
and the untrained roses
show the broken band?
12. Yes, there comes a region
where our life shall be
health in all its freshness,
immortality! –
13. Where the breathing fragrance
on the holy hills,
tender and untainted,
heavenly strength distils; –
14. where the grave is rifled
of its precious store,
and each mound is levelled,
to be raised no more.
Horatius Bonar, The Song of the New Creation, 1872, 70-72.