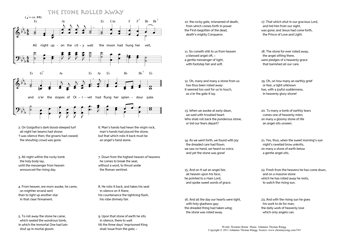 Christ My Song - 543
All night upon the city wall - The stone rolled away
(Horatius Bonar/Johannes Thomas Rüegg)
The stone rolled away.
1. All night upon the city wall
the moon had hung her veil,
and o'er the slopes of Olivet
had flung her splendour pale. (PDF - Midi)
2. On Golgotha's dark blood-steeped turf
all night her beams had shone:
't was silence then; the groans had ceased;
the shouting crowd was gone.
3. All night within the rocky tomb
the holy body lay,
until the messenger from heaven
announced the rising day.
4. From heaven, ere morn awoke, he came,
on mightier errand sent
than to light up another star
in that clear firmament.
5. To roll away the stone he came,
which sealed the wondrous tomb,
in which the immortal One had lain
shut up in mortal gloom.
6. Man's hands had hewn the virgin rock,
man's hands had placed the stone;
but that which rolls it back must be
an angel's hand alone.
7. Down from the highest heaven of heavens
he comes to break the seal;
without a word, to thrust aside
the Roman sentinel.
8. He rolls it back, and takes his seat
in silence on it there;
his countenance the lightning flash,
his robe divinely fair.
9. Upon that stone of earth he sits
in silence, there to wait
till the three days' imprisoned King
shall issue from the gate; –
10. the rocky gate, misnamed of death,
from which comes forth in power
the First-begotten of the dead,
death's mighty Conqueror.
11. So cometh still to us from heaven
a blessed angel oft, –
a gentle messenger of light,
with footstep fair and soft.
12. Oh, many and many a stone from us
has thus been rolled away:
it seemed too vast for us to touch,
as o'er the gate it lay.
13. When we awoke at early dawn,
we said with troubled heart:
Who shall roll back the ponderous stone,
or bid our fears depart?
14. As we went forth, we found with joy
the dreaded care had flown;
we saw no hand, we heard no voice,
and yet the stone was gone!
15. And on it sat an angel fair,
all heaven upon his face;
he pointed to a risen Lord,
and spoke sweet words of grace.
16. And all the day our hearts were light,
with holy gladness gay;
the dreaded thing hat taken wing;
the stone was rolled away.
17. That which shut in our gracious Lord,
and hid him from our sight,
was gone; and Jesus had come forth,
the Prince of Love and Light.
18. The stone for ever rolled away,
the angel sitting there,
were pledges of a heavenly grace
that banished all our care.
19. Oh, on how many an earthly grief
or fear, a light unknown
has, with a joyful suddenness,
in heavenly glory shone!
20. To many a tomb of earthly tears
comes one of heavenly mien;
on many a gloomy stone of life
an angel sits unseen.
21. Yes, thus, when the sweet morning's sun
night's ravelled brow unknits,
on many a stone of earth below
a gentle angel sits.
22. Fresh from the heavens he has come down,
and on a massive stone
which he has rolled away he rests,
to watch the rising sun.
23. And with the rising sun he goes
his work to do for man;
the daily work of heavenly love
which only angels can.
Horatius Bonar, The Song of the New Creation, 1872, 66-69.