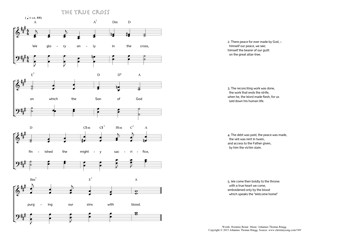 Christ My Song - 549
We glory only in the cross - The true cross
(Horatius Bonar/Johannes Thomas Rüegg)
The true cross.
1. We glory only in the cross,
on which the Son of God
finished the mighty sacrifice,
purging our sins with blood. (PDF - Midi)
2. There peace for ever made by God, –
himself our peace, we see;
himself the bearer of our guilt
on the great altar-tree.
3. The reconciling work was done,
the work that ends the strife,
when he, the Word made flesh, for us
laid down his human life.
4. The debt was paid, the peace was made,
the veil was rent in twain,
and access to the Father given,
by him the victim slain.
5. We come then boldly to the throne:
with a true heart we come,
emboldened only by the blood
which speaks the 'Welcome home!'
Horatius Bonar, The Song of the New Creation, 1872, 54-55.