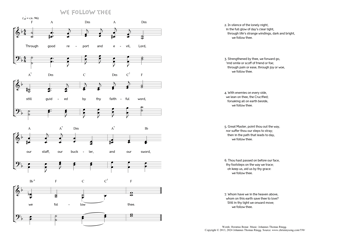 Christ My Song - 550
Through good report and evil, Lord - We follow thee
(Horatius Bonar/Johannes Thomas Rüegg)
We follow thee.
1. Through good report and evil, Lord,
still guided by thy faithful word,
our staff, our buckler, and our sword,
we follow thee. (PDF - Midi)
2. In silence of the lonely night,
in the full glow of day's clear light,
through life's strange windings, dark and bright,
we follow thee.
3. Strengthened by thee, we forward go,
'mid smile or scoff of friend or foe;
through pain or ease, through joy or woe,
we follow thee.
4. With enemies on every side,
we lean on thee, the Crucified;
forsaking all on earth beside,
we follow thee.
5. Great Master, point thou out the way,
nor suffer thou our steps to stray;
then in the path that leads to day,
we follow thee.
6. Thou hast passed on before our face,
thy footsteps on the way we trace;
oh keep us, aid us by thy grace:
we follow thee.
7. Whom have we in the heaven above,
whom on this earth save thee to love?
Still in thy light we onward move;
we follow thee.
Horatius Bonar, Hymns of Faith and Hope III, 1878, 64-65.