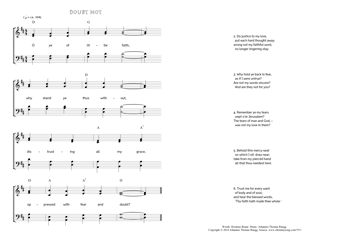 Christ My Song - 551
O ye of little faith - Doubt not
(Horatius Bonar/Johannes Thomas Rüegg)
Doubt not.
1. O ye of little faith,
why stand ye thus without,
distrusting all my grace,
oppressed with fear and doubt? PDF - Midi
2. Do justice to my love,
put each hard thought away;
wrong not my faithful word,
no longer lingering stay.
3. Why hold ye back in fear,
as if I were untrue?
Are not my words sincere?
And are they not for you?
4. Remember ye my tears
wept o'er Jerusalem?
The tears of man and God, –
was not my love in them?
5. Behold this mercy-seat
on which I sit: draw near;
take from my piercèd hand
all that thou needest here.
6. Trust me for every want
of body and of soul;
and hear the blessed words,
'Thy faith hath made thee whole.'
Horatius Bonar, The Song of the New Creation, 1872, 55-56.