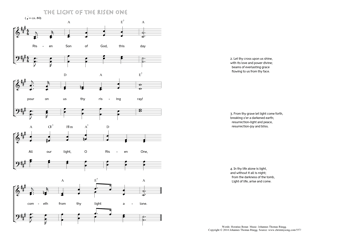 Christ My Song - 557
Risen Son of God, this day - The Light of the Risen One
(Horatius Bonar/Johannes Thomas Rüegg)
The Light of the Risen One.
1. Risen Son of God, this day
pour on us thy rising ray!
All our light, O Risen One,
cometh from thy light alone. PDF - Midi
2. Let thy cross upon us shine,
with its love and power divine;
beams of everlasting grace
flowing to us from thy face.
3. From thy grave let light come forth,
breaking o'er a darkened earth;
resurrection-light and peace,
resurrection-joy and bliss.
4. In thy life alone is light,
and without it all is night;
from the darkness of the tomb,
Light of life, arise and come.
Horatius Bonar, The Song of the New Creation, 1872, 170.