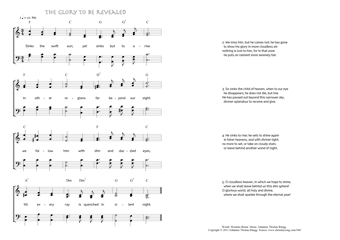 Christ My Song - 560
Sinks the swift sun - The glory to be revealed
(Horatius Bonar/Johannes Thomas Rüegg)
The glory to be revealed.
Exoriar aliis.
1. Sinks the swift sun; yet sinks but to arise
in other regions far beyond our sight:
we follow him with dim and dazzled eyes,
till every ray is quenched in silent night. (PDF - Midi)
2. We miss him, but he comes not; he has gone
to show his glory in more cloudless air:
nothing is lost to him, for in that zone
he puts on raiment more serenely fair.
3. So sinks the child of heaven, when to our eye
he disappears; he does not die, but live.
He has passed out beyond this narrower sky,
diviner splendour to receive and give.
4. He sinks to rise; he sets to shine again
in fairer heavens, and with diviner light;
no more to set, or take on cloudy stain,
or leave behind another world of night.
5. O cloudless heaven, in which we hope to shine,
when we shall leave behind us this dim sphere!
O glorious world, all holy and divine,
where we shall sparkle through the eternal year!
Horatius Bonar, The Song of the New Creation, 1872, 40-41.