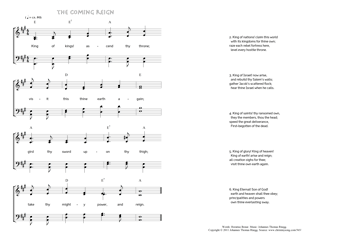 Christ My Song - 565
King of kings! ascend thy throne - The coming reign
(Horatius Bonar/Johannes Thomas Rüegg)
The coming reign.
1. King of kings! ascend thy throne;
visit this thine earth again;
gird thy sword upon thy thigh;
take thy mighty power, and reign. (PDF - Midi)
2. King of nations! claim this world
with its kingdoms for thine own;
raze each rebel fortress here,
level every hostile throne.
3. King of Israel! now arise,
and rebuild thy Salem's walls;
gather Jacob's scattered flock;
hear thine Israel when he calls.
4. King of saints! thy ransomed own,
they the members, thou the head;
speed the great deliverance,
First-begotten of the dead.
5. King of glory! King of heaven!
King of earth! arise and reign;
all creation sighs for thee;
visit thine own earth again.
6. King Eternal! Son of God!
earth and heaven shall thee obey;
principalities and powers
own thine everlasting sway.
Horatius Bonar, The Song of the New Creation, 1872, 24-25.