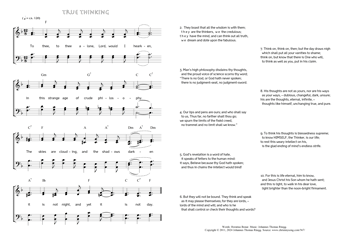 Christ My Song - 567
To thee, to thee alone, Lord, would I hearken - True thinking
(Horatius Bonar/Johannes Thomas Rüegg)
True thinking.
1. To thee, to thee alone, Lord, would I hearken,
in this strange age of crude philosophy.
The skies are clouding, and the shadows darken;
it is not night, and yet it is not day. (PDF - Midi)
2. They boast that all the wisdom is with them;
they are the thinkers, we the credulous;
they have the mind, and can think out all truth,
we dream and dote upon the fabulous.
3. Man's high philosophy disdains thy thoughts,
and the proud voice of science scorns thy word;
"There is no God, or God hath never spoken;
there is no judgment-seat, no judgment-sword.
4. Our lips and pens are ours; and who shall say
to us, Thus far, no farther shalt thou go;
we spurn the limits of the fixèd creed,
no trammel and no limit shall we know."
5. God's revelation is a word of hate,
it speaks of fetters to the human mind:
it says, Believe because thy God hath spoken;
and thus in chains the intellect would bind!
6. But they will not be bound. They think and speak
as it may please themselves; for they are lords, –
lords of the mind and will; and who is he
that shall control or check their thoughts and words?
7. Think on, think on, then; but the day draws nigh
which shall put all your vanities to shame;
think on, but know that there is One who will,
to think as well as you, put in his claim.
8. His thoughts are not as yours, nor are his ways
as your ways, – dubious, changeful, dark, unsure;
his are the thoughts, eternal, infinite, –
thoughts like himself, unchanging true, and pure.
9. To think his thoughts is blessedness supreme;
to know HIMSELF, the Thinker, is our life;
to rest this weary intellect on his,
is the glad ending of mind's endless strife.
10. For this is life eternal, him to know,
and Jesus Christ his Son whom he hath sent;
and this is light, to walk in his dear love,
light brighter than the noon-bright firmament.
Horatius Bonar, Hymns of Faith and Hope III, 1878, 120-122.