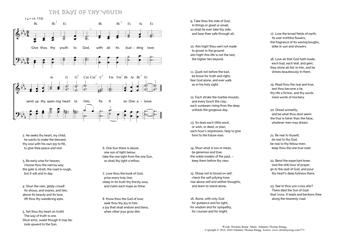 Christ My Song - 571
Give thou thy youth to God - The Days of Thy Youth
(Horatius Bonar/Johannes Thomas Rüegg)
The Days of Thy Youth.
1. Give thou thy youth to God,
with all its budding love;
send up thy opening heart to him,
fix it on One above. PDF - Midi
2. He seeks thy heart, my child,
he wants to make the blessed;
thy soul with his own joy to fill,
to give thee peace and rest.
3. Be early wise for heaven,
choose thou the narrow way;
the gate is strait, the road is rough,
but it will end in day.
4. Shun the vain, giddy crowd!
its shows, and snares, and lies;
above its beauty and its love,
lift thou thy wandering eyes.
5. Set thou thy heart on truth!
The way of truth is one.
Shun error, sweet though it may be;
look upward to the Sun.
6. One Sun there is above,
one sun of light below;
take the one light from the one Sun,
so shall thy light o'erflow.
7. Love thou the book of God,
prize every holy line;
steep in its truth thy thirsty soul,
and claim each hope as thine.
8. Know thou the God of love;
seek thou thy joy in him,
a joy that shall endure and bless,
when other joys grow dim.
9. Take thou the side of God,
in things or great or small;
so shall he ever take thy side,
and bear thee safe through all.
10. Aim high! thou wert not made
to grovel in the ground:
aim high! this life is not the last;
the higher lies beyond.
11. Quail not before the bad,
be brave for truth and right;
fear God alone, and ever walk
as in his holy sight.
12. Each stroke the marble moulds,
and every touch the clay;
each sunbeam rising from the deep
unfolds the gorgeous day.
13. So does each little word,
or wish, or deed, or plan,
each hour's impression, help to give
form to the future man.
14. Shun what is low or mean,
be generous and true;
the noble models of the past, –
keep them before thy view.
15. Stoop not to brood on self,
check the self-pitying tone;
rise above self and selfish thoughts,
and learn to stand alone.
16. Alone, with only God
for guidance and for light,
for wisdom and for sympathy,
for counsel and for might.
17. Love the broad fields of earth,
its ever mirthful flowers;
the fragrance of its waving boughs,
alike in sun and showers.
18. Love all that God hath made,
each bud, each leaf, and gem;
they shine all fair in him, and he
shines beauteously in them.
19. Read thou the real and true,
lest thou become a lie,
thy life a fiction, and thy words
mere words of mockery.
20. Dread unreality,
and be what thou dost seem:
the true is fairer than the false,
whatever men may dream.
21. Be real to thyself,
be real to thy God,
be real to thy fellow-men;
keep thou the one true road.
22. Bend the expectant knee,
love the still hour of prayer;
go to the seat of God, and pour
thy heart's deep fullness there.
23. See'st thou yon cross afar?
There died the Son of God:
that cross, it leads and beckons thee
along the heavenly road.
Horatius Bonar, The Song of the New Creation, 1872, 90-93.