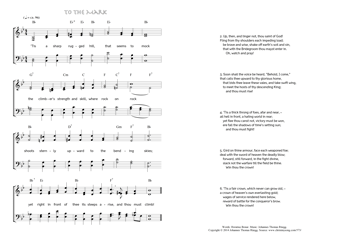 Christ My Song - 573
'Tis a sharp rugged hill, that seems to mock - To the Mark
(Horatius Bonar/Johannes Thomas Rüegg)
To the Mark.
1. 'Tis a sharp rugged hill, that seems to mock
the climber's strength and skill, where rock on rock
shoots sternly upward to the bending skies;
yet right in front of thee its steeps arise,
and thou must climb! PDF - Midi
2. Up, then, and linger not, thou saint of God!
Fling from thy shoulders each impeding load;
be brave and wise, shake off earth's soil and sin,
that with the Bridegroom thou mayst enter in.
Oh, watch and pray!
3. Soon shall the voice be heard, "Behold, I come,"
that calls thee upward to thy glorious home,
that bids thee leave these vales, and take swift wing,
to meet the hosts of thy descending King;
and thou must rise!
4. 'Tis a thick throng of foes, afar and near, –
all hell in front, a hating world in rear;
yet flee thou canst not, victory must be won,
ere fall the shadows of time's setting sun;
and thou must fight!
5. Gird on thine armour, face each weaponed foe;
deal with the sword of heaven the deadly blow;
forward, still forward, in the fight divine,
slack not the warfare till the field be thine.
Win thou the crown!
6. 'Tis a fair crown, which never can grow old, –
a crown of heaven's own everlasting gold;
wages of service rendered here below,
reward of battle for the conqueror's brow.
Win thou the crown!
Horatius Bonar, Hymns of Faith and Hope III, 1878, 22-23.
Today it may be well to clarify that the battle of which this hymn sings is not an ordinary human or earthly battle, but a spiritual fight under the Prince of peace Jesus Christ, the sword being the Word of God ... (Ephesians 6,10-20).