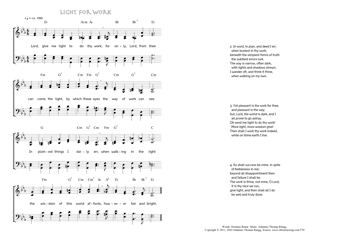 Christ My Song - 576
Lord, give me light to do thy work - Light for work
(Horatius Bonar/Johannes Thomas Rüegg)
Light for work.
1. Lord, give me light to do thy work;
for only, Lord, from thee
can come the light, by which these eyes
the way of work can see.
In plainest things I daily err,
when walking in the light
the wisdom of this world affords,
however fair and bright. (PDF - Midi)
2. In word, in plan, and deed I err,
when busiest in thy work;
beneath the simplest forms of truth
the subtlest errors lurk.
The way is narrow, often dark,
with lights and shadows strewn;
I wander oft, and think it thine,
when walking on my own.
3. Yet pleasant is the work for thee,
and pleasant is the way;
but, Lord, the world is dark, and I
all prone to go astray.
Oh send me light to do thy work!
More light, more wisdom give!
Then shall I work thy work indeed,
while on thine earth I live.
4. So shall success be mine, in spite
of feebleness in me;
beyond all disappointment then
and failure I shall be.
The work is thine, not mine, O Lord;
it is thy race we run;
give light, and then shall all I do
be well and truly done.
Horatius Bonar, Hymns of Faith and Hope III, 1878, 74-75.