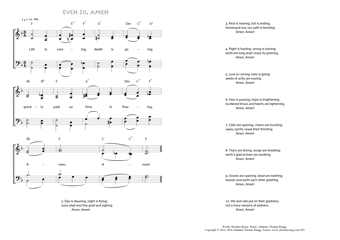 Christ My Song - 583
Life is coming, death is going - Even so, Amen
(Horatius Bonar/Johannes Thomas Rüegg)
Even so, Amen.
1. Life is coming, death is going;
quickly past us time is flowing,
Amen, Amen! PDF - Midi
2. Day is dawning, night is flying;
soon shall end this grief and sighing.
Amen, Amen!
3. Rest is nearing, toil is ending;
homeward now our path is bending.
Amen, Amen!
4. Right is hasting, wrong is leaving;
earth ere long shall cease its grieving.
Amen, Amen!
5. Love is coming, hate is going;
seeds of unity are sowing.
Amen, Amen!
6. Fear is passing, hope is brightening;
burdened brows and hearts are lightening.
Amen, Amen!
7. Cells are opening, chains are bursting;
weary spirits cease their thirsting.
Amen, Amen!
8. Tears are drying, songs are breaking;
earth's glad echoes are awaking.
Amen, Amen!
9. Graves are opening, dead are meeting;
heaven and earth each other greeting.
Amen, Amen!
10. Hill and vale put on their gladness,
not a trace remains of sadness.
Amen, Amen!
Horatius Bonar, Hymns of Faith and Hope III, 1878, 11-12.