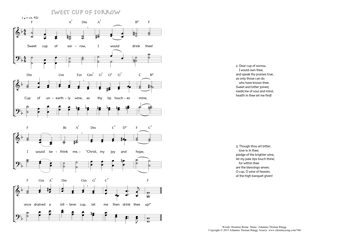 Christ My Song - 586
Sweet Cup of sorrow
(Horatius Bonar/Johannes Thomas Rüegg)
Sweet Cup of Sorrow.
1. Sweet cup of sorrow,
I would drink thee!
Cup of unearthly wine,
as thy lip touches mine,
I would bethink me, –
"Christ, my joy and hope,
once drained a bitterer cup,
let me then drink thee up!" PDF - Midi
2. Dear cup of sorrow,
I would own thee,
and speak thy praises true,
as only those can do
who have known thee.
Sweet and bitter joined,
medicine of soul and mind,
health in thee let me find!
3. Though thou art bitter,
love is in thee;
pledge of the brighter wine,
let my pale lips touch thine;
for within thee
are the blessings seven;
O cup, O wine of heaven,
at the high banquet given!
Horatius Bonar, Hymns of Faith and Hope III, 1878, 15.