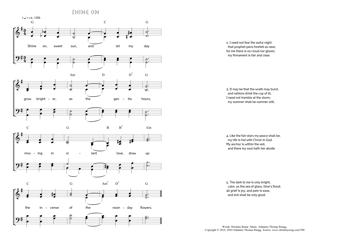 Christ My Song - 588
Shine on, sweet sun, and let my day - Shine on
(Horatius Bonar/Johannes Thomas Rüegg)
Shine on.
1. Shine on, sweet sun, and let my day
grow brighter, as the gentle hours,
moving in silent love, draw up
the incense of the noon-day flowers. PDF - Midi
2. I need not fear the awful night
that prophet-pens foretell as near;
for me there is no cloud nor gloom;
my firmament is fair and clear.
3. It may be that the wrath may burst,
and nations drink the cup of ill;
I need not tremble at the storm;
my summer shall be summer still.
4. Like the fair stars my peace shall be;
my life is hid with Christ in God.
My anchor is within the veil,
and there my soul hath her abode.
5. The dark to me is only bright;
calm, as the sea of glass, time's flood;
all grief is joy, and pain is ease,
and evil shall be only good.
Horatius Bonar, Hymns of Faith and Hope III, 1878, 28-29.