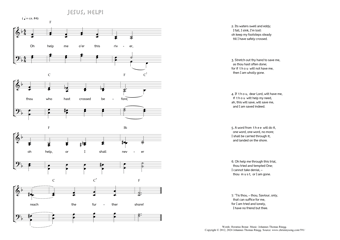 Christ My Song - 591
Oh help me o'er this river - Jesus, help!
(Horatius Bonar/Johannes Thomas Rüegg)
Jesus, help!
1. Oh help me o'er this river,
thou who hast crossed before;
oh help, or I shall never
reach the further shore! PDF - Midi)
2. Its waters swell and eddy;
I fall, I sink, I'm lost:
oh keep my footsteps steady
till I have safely crossed.
3. Stretch out thy hand to save me,
as thou hast often done;
for if t h o u wilt not have me,
then I am wholly gone.
4. If t h o u , dear Lord, wilt have me,
if t h o u wilt help my need,
ah, this will save, will save me,
and I am saved indeed.
5. A word from t h e e will do it,
one word, one word, no more;
I shall be carried through it,
and landed on the shore.
6. Oh help me through this trial,
thou tried and tempted One;
I cannot take denial, –
thou m u s t , or I am gone.
7. 'Tis thou, – thou, Saviour, only,
that can suffice for me,
for I am tried and lonely,
I have no friend but thee.
Horatius Bonar, Hymns of Faith and Hope III, 1878, 6-7.