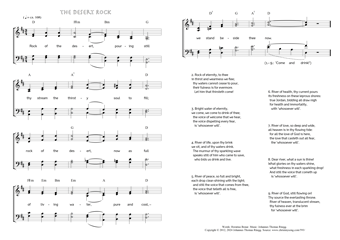 Christ My Song - 593
Rock of the desert - The desert rock
(Horatius Bonar/Johannes Thomas Rüegg)
The desert rock.
They drank of that spiritual rock that followed them;
and that rock was Christ. – 1 Corinthians 10, 4.
1. Rock of the desert, pouring still
thy stream the thirsty soul to fill;
rock of the desert, now as full
of living water, pure and cool, –
we stand beside thee now. PDF - Midi)
2. Rock of eternity, to thee
in thirst and weariness we flee;
thy waters cannot cease to pour,
their fulness is for evermore.
Let him that thirsteth come!
3. Bright water of eternity,
we come, we come to drink of thee;
the voice of welcome that we hear,
the voice dispelling every fear,
is 'whosoever will'.
4. River of life, upon thy brink
we sit, and of thy waters drink.
The murmur of thy sparkling wave
speaks still of him who came to save,
who bids us drink and live.
5. River of peace, so full and bright,
each drop clear-shining with the light;
and still the voice that comes from thee,
the voice that telleth all is free,
is 'whosoever will'.
6. River of health, thy current pours
its freshness on these leprous shores:
true Jordan, bidding all draw nigh
for health and immortality,
with 'whosoever will'.
7. River of love, so deep and wide,
all heaven is in thy flowing tide:
for all the love of God is here,
the love that casteth out all fear,
the 'whosoever will'.
8. Dear river, what a sun is thine!
What glories on thy waters shine,
what freshness in each sparkling drop!
And still the voice that cometh up
is 'whosoever will'.
9. River of God, still flowing on!
Thy source the everlasting throne.
River of heaven, translucent stream,
thy fulness ever at the brim
for 'whosoever will'.
Horatius Bonar, The Song of the New Creation, 1872, 38-40.