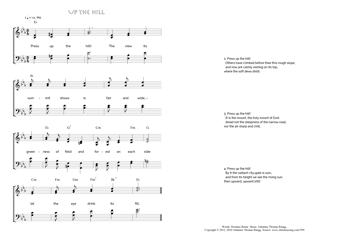 Christ My Song - 599
Press up the hill! - Up the hill
(Horatius Bonar/Johannes Thomas Rüegg)
Up the hill.
1. Press up the hill!
The view its summit shows is fair and wide, –
greenness of field and forest on each side:
let the eye drink its fill. (PDF - Midi)
2. Press up the hill!
Others have climbed before thee this rough slope,
and now are calmly resting on its top,
where the soft dews distil.
3. Press up the hill!
It is the mount, the holy mount of God:
dread not the steepness of the narrow road,
nor the air sharp and chill.
4. Press up the hill!
By it the radiant city-gate is won,
and from its height we see the rising sun:
then upward, upward still!
Horatius Bonar, The Song of the New Creation, 1872, 164-165.