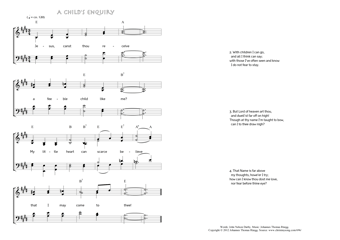 Christ My Song - 696
Jesus, canst thou receive - A child's enquiry
(John Nelson Darby/Johannes Thomas Rüegg)
A child's enquiry.
1. Jesus, canst thou receive
a feeble child like me?
My little heart can scarce believe
that I may come to thee! (PDF - Midi)
2. With children I can go,
and all I think can say;
with those I've often seen and know
I do not fear to stay.
3. But Lord of heaven art thou,
and dwell'st far off on high!
Though at thy name I'm taught to bow,
can I to thee draw nigh?
4. That Name is far above
my thoughts, howe'er I try;
how can I know thou dost me love,
nor fear before thine eye?
John Nelson Darby, Spiritual Songs, 74.