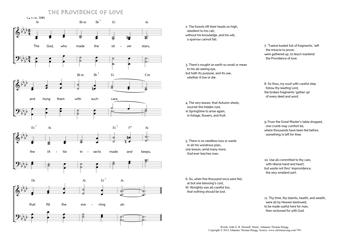 Christ My Song - 705
The God, who made the silver stars - The Providence of love
(John S. B. Monsell/Johannes Thomas Rüegg)
The Providence of love.
Gather up the fragments that remain, that nothing be lost. (John 6,12)
1. The God, who made the silver stars,
and hung them with such care,
the little insects made and keeps,
that fill the evening air. (PDF - Midi
2. The forests lift their heads on high,
obedient to his call;
without his knowledge, and his will,
a sparrow cannot fall.
3. There's nought on earth so small or mean
to his all-seeing eye,
but hath its purpose, and its use,
whether it live or die.
4. The very leaves, that Autumn sheds,
nourish the hidden root,
in Springtime to arise again,
in foliage, flowers, and fruit.
5. There is no needless loss or waste
in all his wondrous plan,
one lesson, amid many more,
God ever teaches man.
6. So, when five thousand once were fed,
at but one blessing's cost,
th' Almighty was all-careful too,
that nothing should be lost.
7. 'Twelve basket full of fragments,' left
the miracle to prove,
were gathered up, to teach mankind
the Providence of love.
8. So thou, my soul! with careful step
follow thy leading Lord,
the broken fragments 'gather up'
of every deed and word.
9. From the Great Master's table dropped,
one crumb may comfort be,
where thousands have been fed before,
something is left for thee.
10. Use all committed to thy care,
with liberal hand and heart;
but waste not thro' improvidence,
the very smallest part.
11. Thy time, thy talents, health, and wealth,
were all by Heaven bestowed,
to be made useful here for man,
then reckoned for with God.
John S. B. Monsell, 'Spiritual Songs', 1864, 169-170.